In occasion of the met-gala 2018 in which the Versace style has shown us a very unique and strong sense of fashion we want to remember the 8 rules of style that we have learned thanks to Donatella Versace!
1. Be the best advertising for yourself. Not surprisingly, Donatella was one of the first designers to become the face of her brand: in the90' she became the protagonist of a Versace campaign shot by Richard Avedon.
2. Never let yourself be seen in public without having the coolest guy at the moment by your side. What to say: Donatella does not miss one. Photographed in the company of the most beautiful men in the world, from Leonardo di Caprio to Zayn Malyk, it seems that she never have enough of muscles and biceps, as she herself told The Indipendent: "I love being surrounded by beautiful guys, and the most extraordinary is that they do not know it ". In short, the important thing is not to get engaged, but to exploit them only from the working point of view.
3. Choose platinum blonde: it will never go out of style. The fault (or merit, according to points of view) is actually of her brother Gianni, who when she was only 11 years old invited a hairdresser friend at home. At the time it was only a few sunstroke, but from that episode Donatella began to build her stainless platinum blonde: very copious, starting from her BFF / Lady Gaga.
4. Nothing gets as successful as excess. Donatella Versace is the living proof that exaggerates pay. Her eccentric collections, made up of huge Medusa heads, sparkling colors, laminated dresses and vertiginous sandals are the most loved by celeb. Among her long-time fans we mention J.Lo and Rihanna, as well as Lady Germanotta.
5. Love your enemy (fashion). Donatella is the first designer to become the protagonist of another designer's advertising: and we are not talking about any one, but Riccardo Tisci, the soul of Givenchy. In the name of the great friendship that binds them despite the competition in the fashion field, Donatella has agreed to become the muse-testimonial of the Maison campaign for the autumn-winter 2015/2016.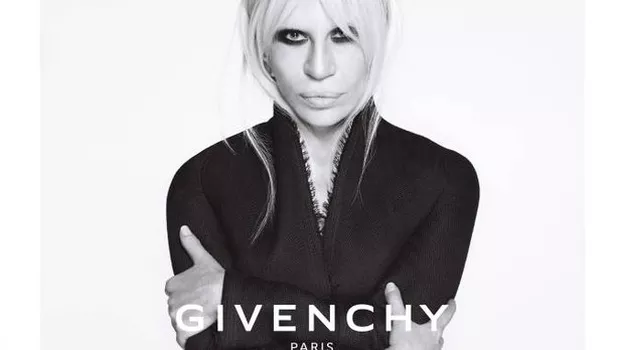 6. Never go out without makeup and a pair of high heels. Water and soap? Never. Donatella never separates herself from make-up and a couple of soaring plateaus.
7. Surrounding with the most beautiful friends is not such a stupid thing. Not just men: Donatella surrounds herself also and above all with beautiful women, next to whom she is immortalized with extreme nonchalance by photographers. Gigi Hadid adores her, Jennifer Lopez has shared with her even the red carpet, Madonna is one of her best friends and the list goes on. Despite being lower, more retouched and even older – she always comes out on top.
8. Your dog is an integral part of the outfit. Donatella has rid the competition of Karl Lagerfeld's millionaire cat, Choupette, always carrying with her Jack Russell: Audrey.
---